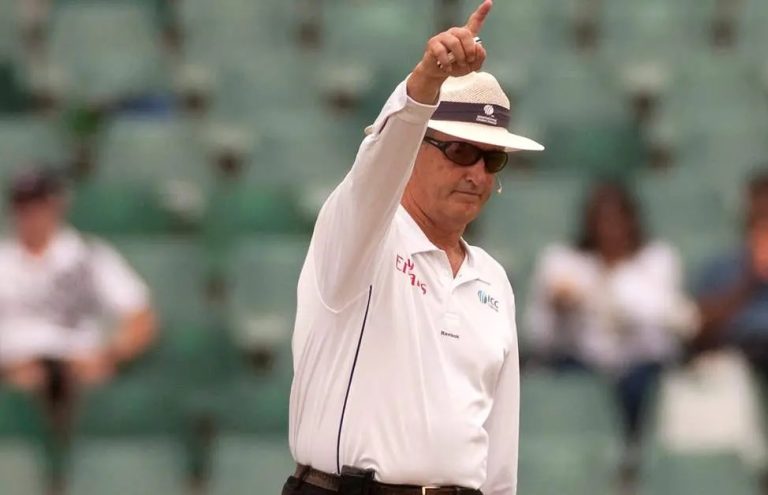 Cricket as a sport needs someone who is impartial and calls out the important decisions in a match. Since a player from both sides would be partial, there arises a need for someone to make the important calls in a match. It can't just be anyone from the audience or any unqualified person, it needs to be someone who has an eagle eye and a thorough understanding of the game of cricket. It has to be someone who knows the rules of the game well, word-by-word to be precise.
An umpire also needs to be strong mentally to be able to withstand the taunts of the players who end up not being satisfied with a particular decision of the umpire and in the heat of passion, end up taunting the umpire for quite some time. Also, they have to endure the chaos and the boos of the spectators, this requires a tough mental state and the ability to be able to stick through with your decision even after such harsh forms of criticism.
Most importantly of all, umpires need to be eagle-eyed and be right with their decisions. No one or a team wants to damage their chances of winning by indecision. A wrong decision by an umpire is taken badly and is treated even worse than players messing up in their plays. Since a misplay is a part of the game and can happen at times, however a wrong decision by an umpire isn't a part of the play and isn't taken well by players, management, the team, or anyone in particular so it is important for an umpire to always be right in their takes since a bad decision would sit permanently with any umpire's decision.
Let's take a look at some of the best umpires of all time that this game has ever seen and they have made it to the ICC champions trophy breaking news–
Richard Kettleborough

: An umpire who started as a player, even though his playing career was only for five years, he went on to become of the most famous English umpires. His start was rough as he showed indecision in his initial days but he improved as time went on and became an experienced veteran. His precision was awarded consecutive David Shepherd trophies in 2013, 2014, and 2015. 
Daryl Harper:

 An Aussie umpire who retired sometime around 2011 after he made silly mistakes during the India-Windies tour, he was a joyful person to have in the middle of the ground. His precision in decisions went only higher during his prime years although it did come down in his later years. He was one of the 8-10 umpires selected in 2002 to form the ICC Elite Panel of Umpires.
Rudi Koertzen:

 This South African umpire is remembered as one of the most respected officials as he has refused to fix matches and was highly regarded by players and audience alike. A professional, he used to take his own sweet time to raise his finger to indicate an 'out.' In the World Cup finals of 2003 and 2007, he presided as the third umpire. He was also one of the members of the 2002 ICC Elite Panel of Umpires.
Aleem Dar: 

He is most popularly known as the most capped official in International Cricket. In the 2011 World Cup, the 15 DRS taken against his judgment were wrong thus making his record clean and straight 100%. Also the winner of the David Shepherd Trophy for three continuous years from 2009 to 2011. His career spanned approximately 20 years and his record has been clean as far as the records show. 
Ian Gould: 

A player, in the beginning, this was a career path that he couldn't have imagined. His career being a player didn't last long and he was thrust forward with the responsibilities of an umpire. His career went on for more than 13 years with it beginning in 2006. And if it was luck, he was called to officiate in 3 World Cups in 2007. He retired recently in 2019 after the World Cup between India and Sri Lanka. 
Steve Bucknor: 

One of the most well-known umpires by most players and audiences alike. One of the only umpires to be present in 5 World Cups from 1992 to 2007, he was an icon. The third most capped umpire, he featured in numerous matches in International Cricket. Due to some controversies at the tail end of his career, his reputation was tarnished to some extent after which he retired in 2009. 
Dickie Bird: 

A strong pillar during the times when umpiring was difficult, in the era of the 70s and the 80s, he stood strong and made sure to leave a legacy to last decades. He was quite strict on the field and tried to end arguments or fights at the root and barely did any himself. One of the most famous umpires of the olden era, he had an emotional farewell in 1996 in which the players from both teams, India and England, gave this man a guard of honor. 
Billy Bowden: 

A professional who was so loved in the art that he was as popular as the cricketers themselves, he was involved in quite some commercials. One of the most reliable choices for the Ashes series and he also was the umpire during the 2011 World Cup semi-final between India and Pakistan.
Simon Taufel

: Among the officials, one of the most well-known umpires of all time. His contribution to cricket is invaluable and he was the winner of bronze bails when he was quite young. 
David Shepherd:

 No one can take the first position from this legend. His efficiency and way of conducting a match with his humor and gestures were unmatched. Unfortunately, this legend passed away in 2008 due to lung cancer.
Conclusion: Umpiring may seem easy on the outside but requires mental fortitude and crystal-clear decisions at times when it is difficult. It is a respected position but demands a lot of effort from their side. After all, there wouldn't be a cricket match without umpires.
Know all about cricket news and updates at CBTF news. 
Get the fastest cricket news update at https://cbtfspeednews.com/. 
Know all about cricket betting and updates at CBTF betting. 
Get the updated expert betting tips at https://cricketbettingtipsfree.com/
Checkout our videos to get the latest updates about cricket and betting tips, and casino tips to win big with expert opinions at https://www.cbtfmytube.com/.